THAI YOGA MASSAGE
         REJUVENATION AND DETOXIFICATION
The fact that Thai Yoga Massage and yoga have a detoxifying and rejuvenating effect on our bodies is well known since centuries. But…understanding some basic physiology, will help us gain a deeper understanding of this statement and get more inspired and motivated towards the practice!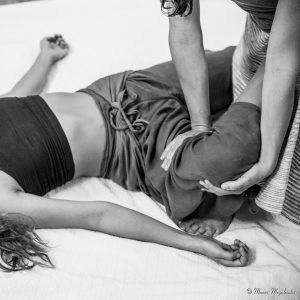 Sen lines or the energy lines that run through the body on which we apply therapeutic pressure in Thai Yoga Massage, can be located between a muscle and a bone or in between 2 muscles, in a space filled with connective tissue (fascia), formed by collagen proteins. Arteries, veins, nerves, lymph and the biomechanical force that moves the muscles, traverse the body through the fascia. When blockages appear in the fascia, they impede the free flow of blood, lymph and movement and constrict the Sen lines.
                            AGING AND TISSUE DAMAGE

A common cause of blockages, is the adhesion of the soft tissue caused by aging. Adhesion occurs within the soft tissue of the body and provokes the attachment of one layer to a neighboring layer. Healthy collagen fibers of the connective tissue, are formed in straight lines whereas by aging or damage they get shorter, tangled and bent, drawing the muscle and the bone closer together. This provokes:
Reduction of the movement of the muscle
Loss of independent movement of the muscle groups
Constriction of the arteries, veins and vessels
Entrapment of toxic particles such as metabolism waste products and particles of external pollution (smoke, chemicals and pesticides) in between the entangled collagen fibers
                      HOW DOES THAI YOGA MASSAGE WORK
Thai massage works by removing these blockages, by applying therapeutic pressure on the Sen lines followed by stretching. The mild stretches of Thai massage, stretch and compress the collagen network of the body, leghthening the fibers and freeing toxic particles. Once freed, the particles can be carried away and eliminated via the blood or the lymphatic system of the body. The old damaged fibers, are substituted with longer and healthier  ones (the process of what we call rejuvenation), increasing the range of movement of the muscles and allowing the body to perform  pain free daily activities.
Follow us for the upcoming Thai Yoga Massage Training in Symi island, Greece, 1-8 JUNE 2018 with Christina Zanni. Travel with purpose and become a certified Thai Yoga Massage practicioner!
For more info: https://www.symiyogaretreat.com/thai-yoga-massage-retreat-training THAI YOGA MASSAGE